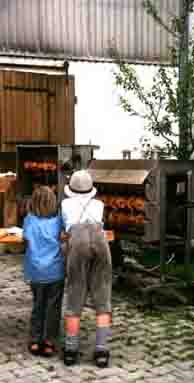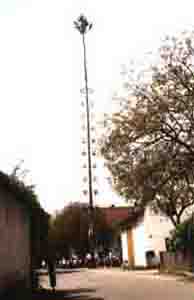 May 1st, 2000, Hohenbachern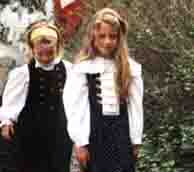 We'd been anxiously awaiting the day. Wondering if the fickle Spring weather would bring us warm sunshine or blustery snow. May Days in Bavaria must have some special magic because although the weather prediction was dismal and the day began with cold mists of rain, by mid morning the sun was burning great patches of dazzling blue sky in the heavens. Temperatures warmed beyond hope, and by 10:00 a.m. it was obvious that a truly splendid spring day was in the making.
We had been in the village of Hohenbachen two years before on May Day. That was our very first May Pole raising celebration and we have been completely enamored with the event ever since. That pole rose in 1998 and I hoped that we might also go in 1999, if we would be lucky enough to be invited. Sadly, that was not to be. Not because we were unwelcome, but because, we discovered, these small villages only raise a May Pole biannually! What a disappointment, and a whole extra year of anticipation! I tried to pass the time productively (in part) by sewing Katie and Anika some Bavarian inspired folk dresses and by the first of May this year we were prepared. Picnic basket, camera, strong arms, folk dresses. Hohenbachern did not disappoint. What a lovely spot. The sun chased away the last clouds well before midday and the gardens all glowed with their early spring blossoms. The May Pole inched upwards amid calls and shouts. The smell of roasting chickens made all or stomachs growl with hunger. Katie and Anika larked about in their fine frocks and danced coyly between the pole raising teams. Matthias and Bob joined the effort at about 10:30 and by approximately noon the pole was being bolted into its full upright position to loud cheers and applause. Shortly after noon we were all seated at long tables behind a nearby barn settling in for a feast. Plates of herb-roasted chicken, bratwurst and large steins of fresh beer were soon to follow. And of course, plenty of "Brezen", the large local pretzels. What a delightful time. May Day has become my favorite Bavarian celebration. The newness of Spring, the feeling of community and tradition, the outdoors feast. I'm grateful to the village of Hohenbachen that we have had the opportunity to share in their day again.