Hangenham
is a small village. North of Munich and east of Freising. We loved living there! It is a beautiful place, and we were all enchanted by it. The village has been a village for a very long time (at least by American standards). There is a small sign next to the main road which commemorates Hangenham's 1,200th year anniversary in 1979.

There are probably about 50 families living there now, although I haven't got any official numbers. As is usually the case in Germany, most of the houses are multi-family dwellings which makes it hard to guess the population based on the number of addresses. There are also a few working farms, a cattle handling operation and some sort of a builing materials storage yard.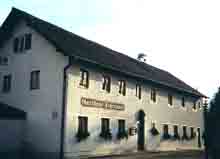 Hangenham has a simple, pleasant guest house called the
Schranner
. The food is tasty and there's a great back porch that looks out over the ridge. It has a beautiful view of the Isar River down below and the large flat plain that stretches toward Munich in the south. On clear days, when the weather is right (a condition called Föhn locally), the snow capped peaks of the
Alps
can be easily seen along the horizon.