We just got back from visiting Birgit, Olaf, Lisa and Paula in Berlin. They've recently moved to the north west edge of the city and are renovating a house there. This was our first visit to their new home. It's a wonderful place in a pleasantly green area of the city. Our visit there was great and made even better by Michelle joining us from Düsseldorf. Now, Michelle and I have this certain fondness for cooking, and when we find ourselves together in a kitchen, numerous plates and platters of fun stuff are bound to follow. When Birgit decided to throw an impromptu "house warming" party, these recipes were the result!

Birgit and Olaf's Bountiful Backyard Barbecue:


Papaya and Peanut Salsa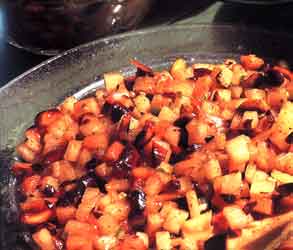 makes about 2 cups


½ cup salted roasted peanuts, coarsely chopped
½ teaspoon oil
1 clove garlic, minced or pressed
½ teaspoon pure chili powder
1 ripe but still firm papaya, peeled, seeded, and cut into 1/8 dice
½ small poblano or 1 serrano or jalapeño chili, stemmed & minced (about 2 Tblsp)
3 Tablespoons fresh lime juice

Place the peanuts, garlic, chili powder and oil in a heavy skillet and toss to coat. Stir over medium-high heat until toasted. Transfer the peanuts to a small bowl, add the remaining ingredients, and stir to mix.
Cover and chill for 30 minutes before serving.
Melon Jalapeño Salsa




makes 2 cups


1 cantaloupe melon, peeled, seeded, and cut into ¼ inch dice
1 or 2 serrano or 2 jalapeño chili, stemmed and minced
3 Tablespoons chopped fresh cilantro leaves
1 Tablespoon fresh lime juice

Place all ingredients in a bowl and stir gently to mix. Serve right away or cover and chill. Use the same day.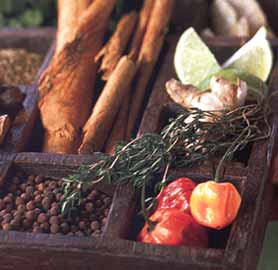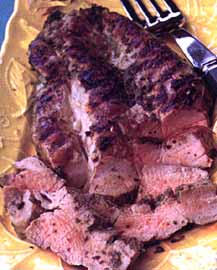 Jamaican Jerk Pork


2 cups chopped green onions
1/2 cup chopped onion
2 tablespoons white vinegar
1 tablespoon soy sauce
1 tablespoon vegetable oil
2 teaspoons salt
3 teaspoons fresh thyme
2 teaspoons brown sugar
2 teaspoons chopped fresh ginger
1 teaspoon ground allspice
1/4 teaspoon ground nutmeg
1/4 teaspoon black pepper
1/4 teaspoon ground cinnamon
2 garlic cloves, minced
1 - 4 Scotch bonnet or habenero peppers, seeded and chopped
1 1/2 pound pork tenderloin, trimmed

Place first 15 ingredients in a blender or food processor and process until smooth. Butterfly cut the porkloin. Open out the halves and lay flat. Cover pork with the jerk mixture in a flat dish or zip top bag. Cover or seal, marinate in the refrigerator 24 hours.
Prepare grill.
Place pork on an oiled grill rack. Grill 8 minutes on each side or until meat thermometer registers 160 degrees.
Chickpea Salad with Curried Yogurt Dressing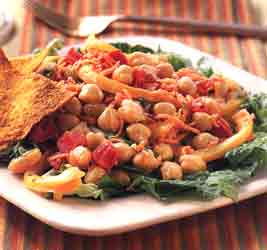 Dressing:
1/3 cup chopped fresh cilantro
2 tablespoons olive oil
1 tablespoon lemon juice
4 teaspoons curry powder
2 cloves garlic, minced
1/2 teaspoon black pepper
1 (8 ounce) carton plain yogurt
Salad:
2 cups finely shredded carrot
1 thinly sliced yellow bell pepper
2 cups chopped plum tomato
1/2 cup golden raisins
1/2 cup finely chopped red onion
2 (15 ½ ounce) cans chickpeas, drained
12 cups romaine lettuce, chopped
To prepare the dressing, combine first 8 ingredients in a small bowl, stir with a whisk. To prepare the salad, combine carrot and the next 5 ingredients in a large bowl. Pour 1/2 of the dressing over the carrot mixture and toss gently to coat. Arrange lettuce on platter, drizzle with salad dressing, top with carrot - chickpea mixture, drizzle with any remaining dressing. Serve with spiced pita wedges.


makes about 6 servings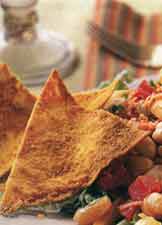 Spiced Pita Wedges
4 Tablespoons melted butter
2 Tablespoons olive oil
1 teaspoon ground coriander
1 teaspoon ground turmeric
1 teaspoon ground cumin
1/2 teaspoon ground oregano
1 clove pressed garlic (optional)
1 package pita bread
Combine first 7 ingredients in a bowl. Split pita in half. Brush evenly over the rough sides of the split pita. Cut each pita half into 4 - 6 wedges. Place on a baking sheet. Bake at 350 degrees for 10 minutes or until toasted. Cool on racks.

Caribbean Rice and Beans
1 1/2 tblsp olive oil
1 large roasted red bell pepper (or pimentos) cut in short thin strips
1/2 green bell pepper cut in short thin strips
2 cloves garlic, minced
2 16 ounce cans black beans drained and rinsed
2 tbsps distilled white vinegar
5-10 dashes tabasco
3 cups cooked white rice cooked in clear chicken stock)
4 tblsp chopped fresh cilantro
salt and pepper to taste

In a large pan, heat oil over medium high heat. Add green peppers and garlic, sauté for 3 minutes, add roasted red peppers, black beans, vinegar and Tabasco. Bring to a boil, reduce heat and simmer for 5 minutes. Stir in rice and cilantro. Adjust seasoning. Serve with extra Tabasco.

© Hofschen Family, 2008