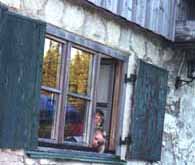 Hangenham. February 20, 2001
We woke up this morning to sharply colder temperatures and a heavy gray sky leaking wet, icy snow drops. Personally, I'm ready to be done with winter and move forward into Spring. We have had a few glorious days of unseasonably warm weather this month and they set me to longing for sunshine and warmer breezes. Katie even discovered some pussy willows sprouting along the ridge. We picked a few and I'm looking at their soft silver fuzziness as I type. Spring can't be too far off now. And with Spring, comes my birthday. Usually, I have no idea what I'd like for a birthday present, but this year I've got two ideas that I can't decide between (not that I will necessarily receive either of them, but it is good to be prepared should someone stop by and ask me about it). One is a digital camera. I might use one of those to put images on this page (for example, these pussy willows that I keep looking at). The other is a family membership to the German Alpine Society. That would be for walking.
Folks walk a lot in Germany. Sometimes just for fun. Now that we've been here for a while we've started to do this, too. And when the weather is fine a very popular place to walk nearby is the Alps. Some friends of ours are experienced mountain walkers and they have taken us along on some hikes in the higher lands. It is very beautiful up there. And there are Huts. Huts are fascinating. There are hundreds of them scattered throughout the peaks and valleys. Some large, some tiny. Some easy to get to after a short walk, some only accessible after hours of climbing. There are "full service" huts that offer food and drink. And various levels of "self service" huts that you must pack your own food supplies into. Many of the huts are run by the Alpine Society, and there are guide books available that list rates, possible walking tours, and services offered at each. Often, the huts are fairly rustic with common kitchen, dining and sleeping areas. The sleeping area can hold as many as 30 beds, frequently just a large platform that runs the entire length of a room. Blankets and pillows are neatly folded on each bunk so you don't need to bring your own. However, since the linens are only washed a few times each season, most people bring light weight "hut sleeping sacks" along. These sacks are approximately the same size and shape as normal sleeping bags only they are made of feather light cotton or silk so that they are light weight and fit easily into a backpack. Both Katharina and Anika have become pretty good walkers. If we take a cable car up the lower portions of a slope they can handily manage the remaining hour or two of hiking required to reach the lower huts and peaks. I'm hoping we will have the opportunity to visit many more mountain tops this year. And, of course, discover many, many more huts. And with a digital camera...